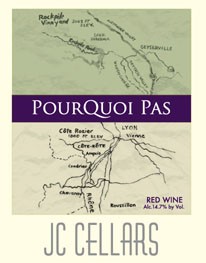 2003 Pourquoi Pas Syrah
Limited Library Wine: only 1 remains
Members: to receive your 10 - 25% savings on wine, sign in
Not a member? Join today
We flew 120 gallons of PIerrie Gaillards Syrah from Cote Rozier over to blend with our Rockpile Syrah. Why you ask? Pourquoi Pas, Why not?
58% Rockpile Vineyard, Sonoma County,
CA, USA,
42% Cote Rozier Vineyard,
Côte Rôtie, France


Gaillard History
Once again, this is something quite special for us. First, in 2001 we had Pierre Gaillard send us two barrels of his St. Joseph Syrah from his acclaimed Clos de le Cuminaille Vineyard, to blend with two barrels of our Ventana Syrah. Now Pierre has out done himself. He has sent us two barrels of his famed Côte Rozier Vineyard in Côte Rôtie to blend with our Rockpile Vineyard Syrah. This is truly something historic.
Pierre's first vintage was a 1987 St. Joseph. He now makes wines form four different AOCs. They include his Côte Rôties that contain beautiful aromatics, with good length and balance. Rich, large-framed Condrieus that brought him early fame with Viognier and late-harvest Viognier. Reds and a white from his vineyard in St. Joseph. Now there are releases from his vineyard in Banyuls, which are historically Grenache based.
Côte Rôtie History
The 2003 vintage in the Northern Rhône is the highest rated vintage since 1978. Spring frosts reduced the yields early, and a long, hot growing season produced wines with deep concentration. In Côte Rôtie it was no different. Translated, Côte Rôtie means "the roasted hillside", some slopes reaching up to a 55-degree gradient. One of France's oldest wine regions, Côte Rôtie was mostly developed by the Romans and was consecrated a Local Appellation in 1940. Within Côte Rôtie are two major hillsides, Côte Blonde and Côte Brune. They both have very steep granite terraces, covered with a layer of sand lime on the Côte Blonde (pale slopes) and clay and iron oxide on the Côte Brune (brown slopes). Côte Rozier Vineyard is located on the Côte Brune hillside, adjacent to La Landonne, at about mid-slope. It is noted in wine books that "Rozier" refers to a hillside that was once covered with wild rosebushes.
Rockpile History
This is our third vintage from the Rockpile Vineyard.The Rockpile AVA produces outstanding wines, and we believe the Rockpile Vineyard is one of the best examples of this appellation. With a costal influence, temperatures are kept moderate during the day and cool at night. At 2000 feet, it has the highest elevation in the region. This puts it above the fog line giving the vines more sun exposure, thus better ripening. The soil consists of metamorphosed basalt planted with the Estrella clone on 110R. Rod and Cathy Park originally planted the vineyard in 1997, and it was the first vineyard to be planted in what is now the Rockpile AVA.
Wine Specifications
Vineyard Designation
Rockpile