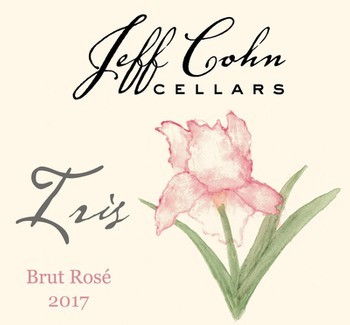 2017 Iris Brut Rosé
Named for My Mom Iris
Members: to receive your 10 - 25% savings on wine, sign in
Not a member? Join today
91 Wine Advocate, 90 Connoisseurs' Guide
My Tavel-inspired sparkling Rosé is our second bottling. This Méthode Champenoise Brut Rosé is 60% Grenache, 20% Syrah, and 20% Mourvèdre. While the 2016 vintage rested on lees for 10 months, with the 2017 we extended it to 23. The goal was to bring additional richness, creaminess, and length to the wine, while keeping it fresh and vibrant. Now imagine a Tavel-style sparkler ... but with no dosage.
Aromatically this wine is a combination of wild strawberries, stone fruits, flaky croissant, and a hint of Rainier cherries. The palate is light and refreshing with persistent flavors of strawberry, cherry, and subtle creaminess that carries the wine to a long finish.
The blend: 60% El Diablo Grenache, 20% Rockpile Syrah, 20% Rossi Ranch Mourvèdre. 263 cases produced. In the Cohn Zone drink now - 2026.
Named in honor of my mom, Iris, the label showcases an original watercolor by her granddaughter, Haley.
Club Pricing
Rockpile Members Save 25% - $45.00
Iris Members Save 20% - $48.00
Pure Yum Members Save 15% - $51.00
Magic Members Save 10% - $54.00
Wine Specifications
Appellation
Sonoma County
Why This Wine?
On a trip to France, my wife Alexandra had the chance to try Tavel wine for the first time. These are rosés from the South of France that are much deeper in color and, in my opinion, richer and more flavorful. She fell in love with those wines.
Trust me I love rosés of Provence, especially Bandol, but Tavel makes my heart skip a beat. So the challenge for me was to make not only a Tavel-style wine, but also satisfy my wife's love for sparkling. I love it because it goes with everything: fun, sun, food, and whatever comes to mind!
I started Jeff Cohn Cellars with the help of my mother, Iris. One adorns the label as a tribute to her.
Vineyard & Vinification
My inspiration for this wine comes from the Tavel region of the Southern Rhône; Tavel is the Rhône's singular rosé-only appellation. All the wines here are pink, by law, and not only do they have more color but, in my mind, texture, and mine has a sparkling twist! I make Iris Brut Rosé using the Saignée method of bleeding off 30% of the juice during red wine fermentation, results in a beautiful wine that is traditionally made using Méthode Champenoise.
The blend: 60% El Diablo Grenache, 20% Rockpile Syrah, 20% Rossi Ranch Mourvèdre
Learn more about El Diablo, Rockpile, and Rossi Ranch vineyards
Flat Rate Shipping
FedEx Ground:
$.01 12+ 750 mL bottles
$15 1 - 11 750 mL bottles
$15 per magnum
📦 Shipping Alert: We're watching the weather. If below 30° or above 70°, we won't ground ship your wine. We recommend FedEx Priority Overnight® to protect it from extreme temperatures.
Professional Reviews
91 The Wine Advocate, Erin Brooks — The 2017 Brut Rosé Iris is a blend of 60% Grenache, 20% Syrah and 20% Mourvèdre from the Rossi Ranch vineyard made using the traditional method and disgorged after 23 months. Deep cherry-pink in color, it has vivacious red berry fruits with notes of cherry candy and toast. The palate is full-bodied, energetic and packed with fruit, finishing long and full of flavor. It was made without dosage and its dry, fruity character will allow it to pair with a wide range of cuisines.
87 Wine Enthusiast, Virigine Boone — This is a sparkling blend of 60% Grenache, 20% Syrah and 20% Mourvèdre, made in the traditional method and aged 23 months. Dark pink and orange in color, it is jammy and richly layered in strawberry pie and notes of baking spice.