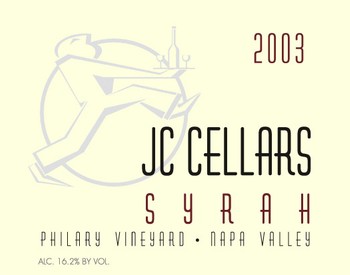 2003 Philary Vineyard Syrah
Limited Library Wine: only 4 remain
Members: to receive your 10 - 25% savings on wine, sign in
Not a member? Join today
This is the finest Philary that we have ever produced. Yields were low and the intensity high. At Philary Vineyards, the term "Terroir" is spelled with a capital T.
To describe this wine, it would have to start with smoky almost inky gamey wild blackberry liqueur that has been immersed with a touch of lavender and black olives. A streak of minerality flows throughout the wine that gives it just the right structure to carry it through one of the most outrageous finishes I have ever had in a syrah.
Philary Vineyards located at almost 1000 feet above sea level overlooking the southern part of the Napa Valley. The vineyard consists of two separate blocks, each with 250 Syrah vines. The first block was planted in March 1996. The second block was planted in March 1998.
The planting of each block was a physical challenge created by the unique nature of the property. The combination of extremely rocky soil, steep slopes, uneven terrain and limited physical access precluded the use of any machines or equipment that would typically be used for vineyard preparation and instillation. The property dictated that both blocks would have to be established by hand.
Thousands of rocks were physically removed in order to clear the vineyard sites for planting which out of necessity was 3 feet between vines and 3 feet between rows (3x3). There was not enough soil existing for planting. Dirt was hand carried in 5-gallon buckets into the vineyard site. Many rocks were too large to remove and remain in both blocks. As a result, the vine rows are neither straight nor level.
Compulsive consistency and obsessive quality control have allowed the vineyard to express the character of the property.
Wine Specifications
Vineyard Designation
Philary Vineyard