Single vineyard Zinfandel and Rhône-centric wines that walk a tightrope, balancing the pure expression of California fruit with the Rhône-influenced winemaking of vintner Jeff Cohn.
Our Story
Our Sonoma Family Winery
Rhône varietals, Red Blends, and Single Vineyard Zinfandels that are unapologetic. Jeff Cohn marries his passion for classic Rhône winemaking with a spirited California sense of innovation to craft bold and elegant wines that showcase our passion, pride and sense of place.
Our Tasting Room is located on the Historic Sonoma Square
535 First St. West Sonoma, CA
707.938.8343
in the breezeway next to The Red Grape Restaurant
Come visit us!
---
Robert Parker's Impressed Again by 2014 Vintage
The Wine Advocate
December 30, 2016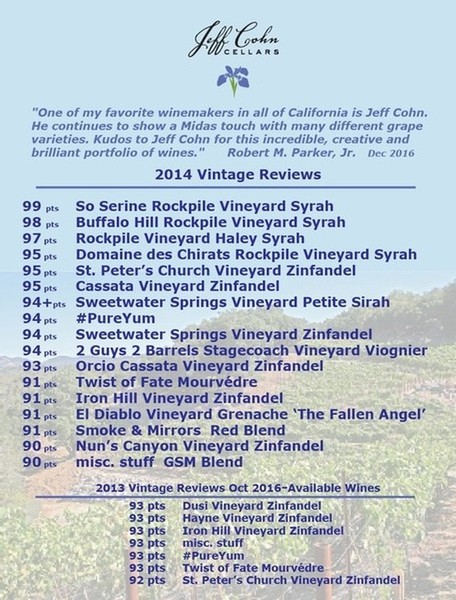 "One of my favorite producers year in year out who still seems to fly under many people's radar is Maryland-born Jeff Cohn. He has the midas touch. It is clearly obvious. Anyone serious about wine should have some of his vinous elixirs in their cellar."
Robert M. Parker, Jr., March 2016
---