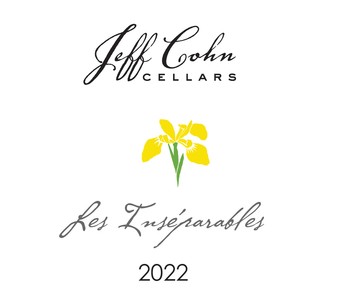 2022 Les Inséparables
Sensual + Exotic
Members: to receive your 10 - 25% savings on wine, sign in
Not a member? Join today
Medium light gold color, with aromatics of apricot, peach, and Bosc pear, vanilla bean, cinnamon and just a touch of minerality (Petrichor) that really give the wine pinpoint focus and lift. The palate is very giving and luxurious while showcasing both dried peach and apricots, but a touch of lime that brings freshness to the mid-palate that is both sensual and exotic to a lengthy finish.
The blend: 43% Grenache Blanc, 30% Roussanne, 27% Viognier; 229 cases produced. In the Cohn Zone: drink now - 2033.
Club Pricing
Rockpile Members Save 25% - $56.25
Iris Members Save 20% - $60.00
Pure Yum Members Save 15% - $63.75
Magic Members Save 10% - $67.50
Wine Specifications
Varietal
White Rhône Blend
Why This Wine?
After years of making The First Date, I had an opportunity to mix it up in 2022. So, I did!
The first change was that I was able to get some exotic Roussanne from the Adelaida Vineyard in Paso Robles, this worked well with the Camp 4 Grenache Blanc from Santa Barbara, but something was still missing that would bring the two wines together in unison.
After many years of drought and a severe heatwave, the Viognier yield from Stagecoach Vineyard® was less than a third of what I typically receive. The wine made from this harvest was ultra-rich and concentrated, but it too was missing something.
Thus, a touch of playing around in the lab making blends, I came up with this outrageously, perfectly balanced wine. What I find amazing is that you can smell and taste each component, but they melt into each other both aromatically and flavor and texture wise.
I started Jeff Cohn Cellars with the help of my mother, Iris. One adorns the label as a tribute to her.
Vineyard & Vinification
Appellation: Napa Valley, Paso Robles, and San Ynez Valley
Vineyard: Stagecoach®, sustainably farmed, originally planted in the late 1800's then brought to glory in the mid-1990s beginning with the removal of 1 billion pounds of volcanic rock.
While Cabernet Sauvignon is the primary varietal grown, the Viognier is unmatched in depth and complexity. I source here purely and simply for the minerality, roundness, and depth that the vineyard offers to my beloved Rhône white varietals.
Grenache Blanc — Camp 4 Vineyard, Los Olivos District, Santa Ynez Valley, Santa Barbara County
Roussanne — Adelaida Vineyard, Adelaida District AVA, Paso Robles
Viognier — Stagecoach Vineyard®, Napa Valley AVA
Learn More About Stagecoach® Vineyard
Vinification: 43% Grenache Blanc, 30% Roussanne, 27% Viognier
Each vineyard was picked separately and 100% whole-cluster pressed then drained to stainless steel tanks to settle. Both primary and secondary (malolactic) fermentations occurred in barrel and concrete.
35% of the Grenache Blanc went into a concrete egg, the premise is that with the egg shape and the earth's gravitation rotation, a vortex is created inside the egg that stirs the lees on a constant basis as it ages. We feel the egg keeps the fruit bright, adds a creaminess to the wine and brings out the minerality found in the Camp 4 Vineyard. The remaining Grenache Blanc and the Roussanne went into 100% new French oak while the Vioginer was all neutral French oak. The wine was aged for 11 months.
Flat Rate Shipping
FedEx Ground:
$.01 12+ 750 mL bottles
$15 1 - 11 750 mL bottles
$15 per magnum
📦 Shipping Alert: We're watching the weather. If below 30° or above 70°, we won't ground ship your wine. We recommend FedEx Priority Overnight® to protect it from extreme temperatures.