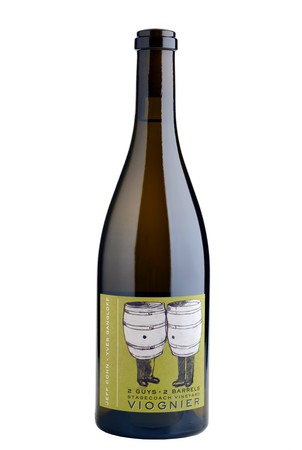 2018 2 Guys • 2 Barrels Stagecoach Vineyard Viognier
A Yves Gangloff Collaboration
Members: to receive your 10 - 25% savings, Sign in
Not a member? Join today
93 Wine Advocate, 91 Jeb Dunnuck, 90 Connoisseurs' Guide, Wine Enthusiast
What I love about making Viognier from the Stagecoach Vineyard is that the resulting wine is such a reflection of the vineyard and vintage. This vintage showed a lot of mineral in its core, but ripe peaches, dried apricots, honey and wisp of white flowers in its aromatics. On the palate this wine is a full-bodied luxurious experience that's a mirror image of its aromatics, but with a touch of licorice in the forever flowing finish.
140 cases produced. In the Cohn Zone: drink now - 2025.
Club Pricing
Rockpile Members Save 25% - $45.00
Iris Members Save 20% - $48.00
Pure Yum Members Save 15% - $51.00
Magic Members Save 10% - $54.00
Wine Specifications
Vineyard Designation
Stagecoach Vineyard, Atlas Peak
Why This Wine?
Another one of My favorite Rhône white varietals. Originating in the Northern Rhône, in an area called Condrieu, where all they are allowed to grow is Viognier. This is also one of those grapes that I have made many times, but without achieving my goals that I felt I could.
Then, I was offered an opportunity to make Viognier from Stagecoach and thought to myself, it's working for Marsanne and Roussanne, let's see what happens with Viognier.
I knew if I was going to undertake this adventure, I wanted to collaborate with one of my favorite Condrieu producers. So, I gave a call to Yves Gangloff, and just by luck he was going to be in California and had time to walk the vineyard with me. We designed a game plan and the rest is history: 2 Guys • 2 Barrels. The label design is by his son, Loup.
Vineyard & Vinification
Appellation: Napa Valley
Vineyard: Stagecoach, sustainably farmed, originally planted in the late 1800's then brought to glory in the mid-1990s beginning with the removal of 1 billion pounds of volcanic rock.
While Cabernet Sauvignon is the primary varietal grown, its Marsanne, Roussanne, and Viognier are unmatched in their depth and complexity. I source here purely and simply for the minerality, roundness, and depth that the vineyard offers to my beloved Rhône white varietals.
Learn More About Stagecoach Vineyard
Vinification: 100% Viognier
The fruit is hand-picked then cold-soaked. I gently foot-stomp the fruit of which 100% is whole cluster, the rest is whole berry and de-stemmed. None is crushed. The wine goes through open-top, then 100% Malolactic fermentation and aged 18 months in 30% new French oak barrels.
Flat Rate Shipping
FedEx Ground:
$.01 12+ 750 mL bottles
$ 15 1 - 11 750 mL bottles
$ 15 per magnum
📦 Shipping Alert: We're watching the weather. If below 30° or above 70°, we won't ground ship your wine. We recommend FedEx Priority Overnight® to protect it from extreme temperatures.
Professional Reviews

93 The Wine Advocate, Erin Brooks — The 2018 Viognier 2 Guys • 2 Barrels is a collaboration between Jeff Cohn and Yves Gangloff of Condrieu. Fruit comes from the Stagecoach vineyard and the wine was aged 11 months in 30% new French oak. It offers classic aromas of white peaches and white pepper, with wafts of dried herbs, honeysuckle and matchstick. The palate's ripe fruits are anchored by mineral tones, a bright spine of freshness and a touch of texture on the very long, floral finish. 132 cases were made. Drink now - 2026.
91 Jeb Dunnuck — Starting with the 2018 Viognier 2 Guys 2 Barrels from Cohn, this always has a Condrieu-like vibe and offers lots of apricot, exotic stone fruits, orange blossom, and hints of
toasted bread. It's elegant, medium-bodied, and balanced, with both richness and freshness. Drink it over the coming 2-4 years.
90 Wine Enthusiast, Virginie Boone — A partnership between winemakers Yves Gangloff and Jeff Cohn, this hearty white from the famous site opens in floral aromatics of jasmine and apple blossom. From there it leads to stone and green apple on the palate, which is opulent and oak-driven with lasting grip and power.