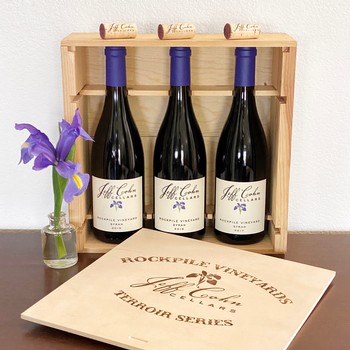 Rockpile Terroir Series Vertical
Fab for the Syrah Lover
Members: to receive your 10 - 25% savings, Sign in
Not a member? Join today
95+ scores on THE ROCKS!
Celebrate by giving or keeping our Rockpile Terroir Series Vertical. It's a classic gift for the Rockpile Syrah lover.
This limited-release 3-bottle boxed set includes a bottle each of the highly-acclaimed 'Haley' wines from our flagship Rockpile Vineyard featuring: 2015, 2016 and 2017 Rockpile Syrah 'Haley'
Each gift box is signed by Jeff.
Order Now; Limited!
Ground shipping is included in the gift set price. Members, your wine club discount applies, of course!
Ratings
Why This Wine?
It was important to me to make a special wine for my youngest daughter. She is an incredibly talented artist, incredibly smart, and loves adventure. She is also hardheaded and stubborn. She has a softer side and a harder side, so does this wine. One produces the elegance and finesse and the other, the structure and depth of this wine. Together, they are the perfect balance. Intensely dark ruby red purple in color, it will stain the glass as you swirl it. A true reflection of my Haley's personality.
I started Jeff Cohn Cellars with the help of my mother, Iris. One adorns the label as a tribute to her.
Vineyard & Vinification
Appellation: Rockpile
Vineyard: Rockpile, sustainably farmed, vines planted in 2000
Been making Rockpile Syrah since 2001. There is a magnetic force in this vineyard that pulls you in, and you feel that something amazing will be produced. These wines are as close to Hermitage Rouge as you will get.
Learn More About Rockpile Vineyard
Vinification: 100% Syrah
The fruit is hand-picked then cold-soaked. I gently foot-stomp the fruit of which 30% is whole cluster, the rest is whole berry and de-stemmed. None is crushed. The wine goes through open-top, then 100% Malolactic fermentation and aged 18 months in large-format 80% new French oak and 20% neutral French oak barrels.
Flat Rate Shipping
FedEx Ground:
$.01 12+ 750 mL bottles
$ 15 1 - 11 750 mL bottles
$ 15 per magnum
📦 Shipping Alert: We're watching the weather. If below 30° or above 70°, we won't ground ship your wine. We recommend FedEx Priority Overnight® to protect it from extreme temperatures.