October 12, 2020 | Kathy Harshbarger
El Diablo Grenache y Mexican Pairings
YUM! Inspired Mexican Cuisine
Whether you are planning a Dia de los Muertos remembrance or craving some Mexican-inspired comfort foods, Grenache is an excellent choice for all sorts of tortilla-based dishes. Get inspired and make a dish!
Tacos - small hand-sized soft corn tortillas topped with meat, chopped onion, cabbage, radish, lime, and cilantro

Chalupas - similar to tacos, but with small crispy corn tortillas

Sopes - a thick soft corn tortilla topped with seasoned meat and mexican cheese, and sometimes pickled vegetables or lettuce

Tostadas - this literally translates to toasted and perhaps was derived from crisping day-old masa tortillas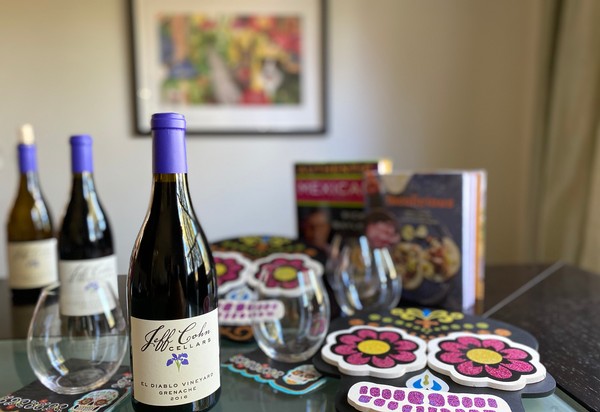 Who better to inspire you than chef Rick Bayless. Most know him from winning the title of Bravo's Top Chef Masters, beating out the French and Italian with his authentic Mexican cuisine. His highly-rated Public Television series, Mexico–One Plate at a Time.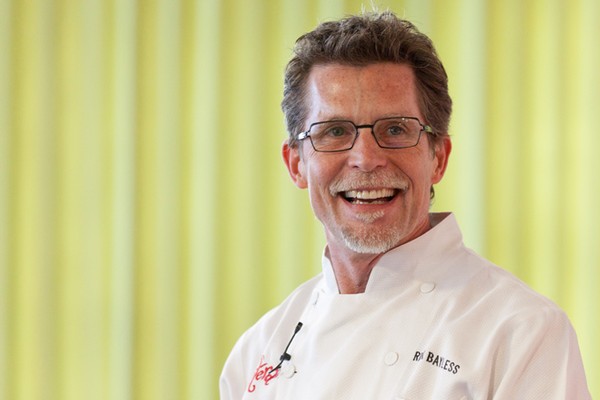 Potato-Chorizo Sopes o Sopes con Papas y Chorizo
Servings: 16 sopes, serving 8 as a passed appetizer
Ingredients
For the Chorizo
1 1/2 pounds coarsely-ground pork
1 1/4 cup New Red Chile Adobo
1/2 teaspoon salt
1/4 cup paprika
For the Sopes
1 pound (2 cups) fresh smooth-ground corn masa for tortillas or
1 ¾ cups powdered masa harina mixed with 1 cup plus 2 tablespoons water
Salt
For Finishing the Sopes
2 medium (about 8 ounces total) red-skin boiling or smallish Yukon Gold potatoes, peeled and cut into 1/4-inch cubes
1 small white onion, finely chopped
Vegetable oil for greasing the griddle or skillet, plus more for brushing on the sopes
Crumbled queso añejo, for serving
Cilantro leaves, for serving
Tomatillo salsa, for serving
Preparation
1. Make the chorizo
In a large bowl, mix together the pork, adobo, salt and paprika. Cover and refrigerate until you're ready to use.
2. Form the sopes
Heat a well-seasoned or nonstick griddle or heavy skillet over medium. Put the masa (fresh or reconstituted) into a bowl and knead in ¾ teaspoon salt. If necessary, knead in a few drops of water to give the masa the consistency of soft cookie dough. Divide into 16 equal pieces, roll into balls and cover with plastic to keep them from drying out.
One by one, form the fat little tortillas that will become the sopes: Line a tortilla press with 2 pieces of plastic cut to fit the plates (thicker plastic like a food storage bag usually works better for beginners). Gently press out a flattened ball of dough between the sheets of plastic to about 3 ½ inches in diameter (it should be a little less than ¼-inch thick). Peel off the top sheet of plastic, flip the fat little tortilla uncovered-side down onto the fingers of one hand, then gently peel off the second piece of plastic.
In one flowing movement, roll the tortilla off your hand and onto the heated griddle or skillet. After about 1 ½ minutes, when the tortilla has loosened itself from the cooking surface and is lightly browned, flip it and cook for another minute or so—this cooking is just to set and brown the surface of the tortilla but not cook the masa all the way through. While the first tortilla is cooking, continue pressing out others and adding them to the griddle or skillet; just be careful not to leave them on so long they cook through.
Remove each lightly browned tortilla to a plate. Cool just until handleable, then use your thumb and index finger to pinch up a masa border about ½ inch high around the edge of the tortilla—in doing this you are transforming the fat little tortilla into a sope, a little masa boat. Cool the sopes, then cover with plastic to keep them from drying out.
3. Fill and finish the sopes
Scoop the potato pieces into a microwave-safe bowl, add a couple tablespoons water, cover with plastic wrap, poke a few holes in the top, and microwave at 100% for 3 minutes. When cool, tip off water.
In a large (12-in.) heavy, well-seasoned or non-stick skillet set over medium heat, combine 1 pound (2 cups) of the chorizo (reserve the leftover chorizo in the refrigerator or freezer for another use) and the onion and cook, stirring regularly and breaking up any lumps of sausage, until the onion is soft and the sausage cooked through, about 10 minutes. Add the potatoes to the skillet and continue to cook over medium heat, stirring regularly until the potatoes begin to brown, 6 to 8 minutes.
As the mixture cooks, mash everything together a little with the back of a spoon or spatula, scraping up any crusty bits of potato, so that it roughly holds together (it'll look a little like hash). Taste and season with salt, usually ½ teaspoon. Cover and keep warm over the low heat.
Shortly before serving, heavily oil the well-seasoned or non-stick skillet or griddle (my 12-inch griddle takes about ¼ cup to oil it properly) and set it over medium. Fill the griddle with a single uncrowded layer of the sopes, flat side down, then brush each one with a little vegetable oil.
Spoon a generous tablespoon of the chorizo mixture into each sope and leave on the heat until the bottoms of the sopes begin to crisp and the chorizo is warm, 1 to 1 ½ minutes. Remove the sopes to a plate lined with paper towel to drain.
Transfer to a serving platter, top each with queso añejo, cilantro leaves and tomatillo salsa and serve without hesitation.
Delicioso - the recipe and more inspiration at RickBayless.com
Comments
Commenting has been turned off.
You know you want to be
in the Cohn Zone
Enter your email address to keep up to date on the latest wine releases, events, and promotions.