September 30, 2021 | Adventures in Far Away Places | Jeff Cohn
2021 in the Cohn Zone
So, Wow It's September
And what a year it has been so far!
Let's forget about COVID-19, and its variants; the California fires and elsewhere, and all the other crazy aspects of life, both here and abroad and take some time for our families and ourselves.
I can tell you that 2021 has been for my family and myself — a time of change and growth. Here's the latest from the Cohns: to begin with, Isabel is now 21 and Haley is 18.
Isabel continues to live in Alameda. Her apartment is in an old 1930's bungalow from the days that Alameda was known as the "Coney Island" of the West Coast. She continues her college education, plays in a band and is very successful with thrift store shopping and Depop. I am amazed at her knack to figure out what people really love to buy and her talent for outfitting them in style!
Haley is attending college in Portland, and yes, completely loves the "Keep Portland Weird" vibe. During the summer she spent time visiting her roommate in her home state of Alaska, working in our tasting room, and at Market 377, a shop around the corner.
Talk About Healdsburg
We made the big move tasting room move from downtown Sonoma to our new one just off the plaza! We loved Sonoma, but Healdsburg is "down the street" from our new home. Yes, it is true — after 24 years, we moved from Alameda. It was time to get closer to not only the vineyards and tasting room, but also the winery.
About the Winery … I Have Exciting News
Starting with this harvest, I will be making my wine at Grand Cru, a custom crush facility literally "down the street" at the end of our neighborhood in Windsor. Trust me, the winemaking will stay the same. I have had more meetings on this subject with the team leaders at Grand Cru than one can imagine!
Those who of you who know or have met me, and to those who have not, I am a perfectionist and at times, a neurotic winemaker. I am very hands-on and will continue making my wines at the highest caliber because I love my wines and I know you do, too!
I Have More Exciting News
Talk about wines of the highest caliber, the reviewers and critics have spoken, and the 2018 vintage is considered one of California's finest! Our reviews from Connoisseur's Guide, Wine Advocate, Wine Enthusiast, Wine Spectator, and Jeb Dunnuck have been not just kind but simply put — AMAZING! I am humbled have to say, they are some of the finest that we have ever received. They love the Jeff Cohn Cellars YUM, too!
So why tempt you with this? To tantalize your tastebuds for special holiday offers in time for Thanksgiving dinner! I just can't wait to open the wine cellar and give you sneak-peak in the YUM coming in our Spring Club Release with a chance to buy some in time for the holidays.
Rock + Rhône - Fall 2021
Our members are in for a treat! The Fall Wine Club Release features Rock + Rhône selections of my 2017s and yes, they are tasting fantastic.
We have seven wines coming out. As the weather cools, these wines punctuate my Rhône-centric winemaking philosophy and truly showcase how special each of these individual vineyards are. In a word these wines are MINDBLOWING!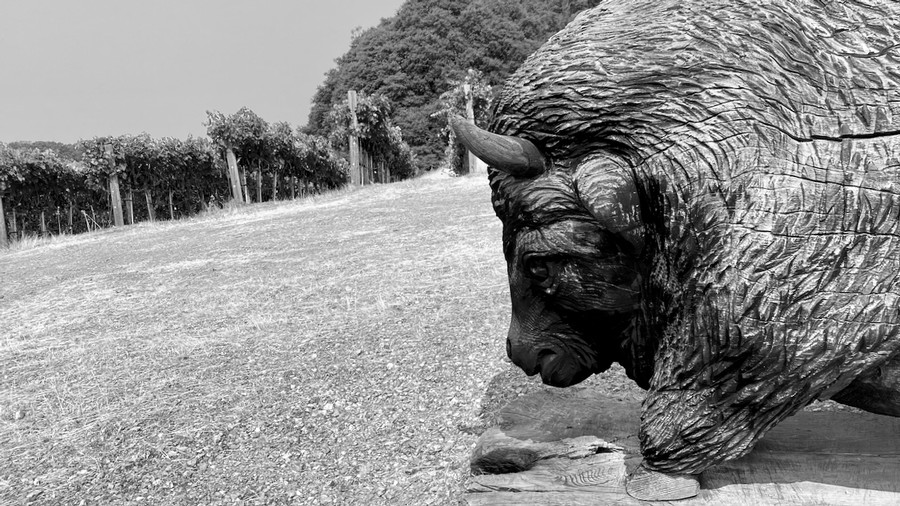 Our flagship Buffalo Hill Syrah ripening under a watchful eye in 2021
Why Wait a Bit Longer to Release?
The simple answer is that I want to release our wines when I feel they are starting to best express themselves. All you have to do is decide to drink them now or cellar, either way, I'll make more!
Thank you to all of our members, our extended family. We hope you continue to be well and drink well.
The more the merrier, if you are interested in joining or switching to one of our clubs, we are a call or click away. Enroll or upgrade today: wineclub@jeffconcellars.com, 707-938-8343 or www.jeffcohncellars.com/wine-clubs.
As I always say, "you be good"!
~Half Full,
Jeff
Comments
Commenting has been turned off.
You know you want to be
in the Cohn Zone
Enter your email address to keep up to date on the latest wine releases, events, and promotions.