June 1, 2021 | Drink Wine, Recipes | Kathy Harshbarger
Rock It Daddy-O
Cracklin' Sugar-Charred Cowboy Steak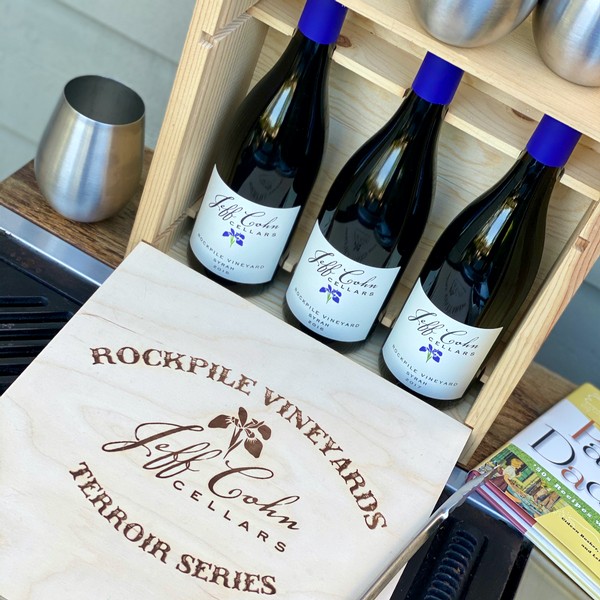 This Father's Day, head to the backyard "range" to share an unforgettable BBQ with our Rockpile Terroir Series Vertical: 2015, 2016, 2016 Rockpile 'Haley' Syrah pair with Cowboy Steak.
For best results, cook on an uncovered charcoal grill with tongs. Suggested sides are Dragonbreath Corn on the Cob, sliced tomatoes, crusty bread to sop the juices, and of course a lusty red wine ... Jeff has you covered here!
Leftovers? Make steak sandwiches with mayo-smeared, butter toasted garlic bread — YUM!
This recipe adapted from the retro Patio Daddy-O cookbook hence the sirloin selection, neat-o.
Serves 6 - 8
Ingredients
1 2 - 3 top sirloin steak, about 1-inch thick
Sugar + Spice Rub
1 teaspoon kosher salt

1 teaspoon freshly cracked black pepper

½ teaspoon garlic power

2 ½ tablespoon Turbinado cane sugar
Preparation
Combine sugar + spice rub in a small bowl.

Open the first bottle of Rockile 'Haley' and decant (of course, the host-with-the-most will open more depending on the number of guests)
Rub one side of the steak with half of rub mix. Let stand at room temperature for 1 hour.
While rub is working it's magic, prepare the charcoal grill with mesquite charcoal (it will spark when lit and takes longer to get to the coal stage). An electric starter or charcoal chimney is recommended. Takes approximately 45 minutes.
Flip steak and coat remaining rub on the other side. Let stand at room temperature for an additonal 30 minutes.
Check for meduim hot grill: the coals should be glowing red and are grey coated. To test (careful) you should be able to hold your hand 4 inches from the grill grate for 3 - 4 seconds.

Cook for 4 minutes on each side for medium rare; 5 minutes on each side for medium. Use tongs to turn

Remove from grill and rest for 5 minutes the slice on the bias at a 45º angle
Dragonbreath Corn on the Cob
Comments