June 29, 2020 | Drink Wine, Recipes | Kathy Harshbarger
Ron's 18-hour Smoked Pork Shoulder
⏰ Make Some Time for Ron's Pork Shoulder!
Ron, one of our Florida wine club members and "BBQ guy" shares his 18-hour pork shoulder recipe & suggested wine pairings. The other day, he shared some tasty photos with us and well, we just has to ask for the recipe, ahem — technique! You'll need a smoker and here's the secret to making a delicious pork shoulder to pair with your Jeff Cohn wine. YUM!
According to Ron, "there isn't a whole lot of recipe ingredients as it's mostly in the method so here goes".
Ingredients
8-12 lb. Pork shoulder (Boston Butt)

Yellow mustard

Rub

Apple Juice water mix 50/50 in spray bottle

Chicken stock
Preparation
Coat shoulder in yellow mustard, called the glue in BBQ world & does not interfere with taste.

Sprinkle your favorite rub, I used Spice Labs Southern Pecan for this one.

You can make your own from Smoked Paprika, salt, ground pepper, granulated onion and garlic powder.

Let set up overnight if possible
Method
I used a Primo XL Oval smoker, but any smoker can adapt.

Fat cap should be aimed at heat source depending on smoker type.

Add Hickory chunks, 4 nice size to bottom of charcoal grate, add hardwood charcoal large pieces on bottom.

On the Primo I filled the charcoal within 2-3 inches of the deflector plates. Deflector plates act as a convection.

Set temp between 225-250.

I use a Flame Boss 500 that gives me precise control without having to monitor. You can use a drip pan under the meat or if you have deflector plates wrap them in HD foil for easy clean up.

I go fat side down if the heat is supplied from underneath. This protects the meat and gives a nice bark.

Cook is about 1 ½ hrs. per lb. at these temps.

The cook process will stall around 165 degrees for several hours, not to worry this is normal.

After about 4 hrs. quickly apply a spray of the apple juice water mixture each hour. (if you do a low and slow overnight starting spraying early am is fine)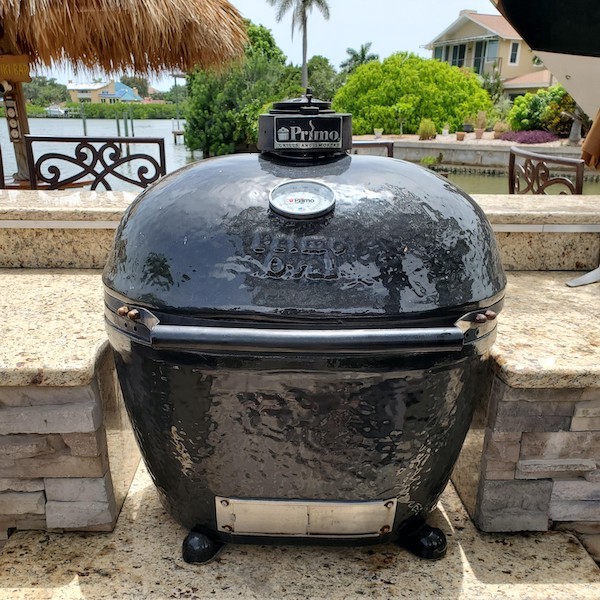 Cook Time for This Cook
Started at 8pm Thursday night. Did a good spray of apple juice mixture around midnight.

When I woke at 6:30 am it was throttling around 163, hit with juice mixture then and every hour till done.

Wrapped the shoulder in HD foil around 165 degrees and added half cup of chicken stock.

Foil will accelerate the cook and keep moist.

Pulled of smoker at 2pm at around 196 degrees and placed in aluminum disposable pan.

Lay a towel on bottom of a plastic cooler place the foil pan and shoulder on towel and place additional towel on top of the foiled pan containing the meat.

The temp will rise about 5 degrees at this point to 201.

I let it rest for 2 hours before pulling it apart to serve.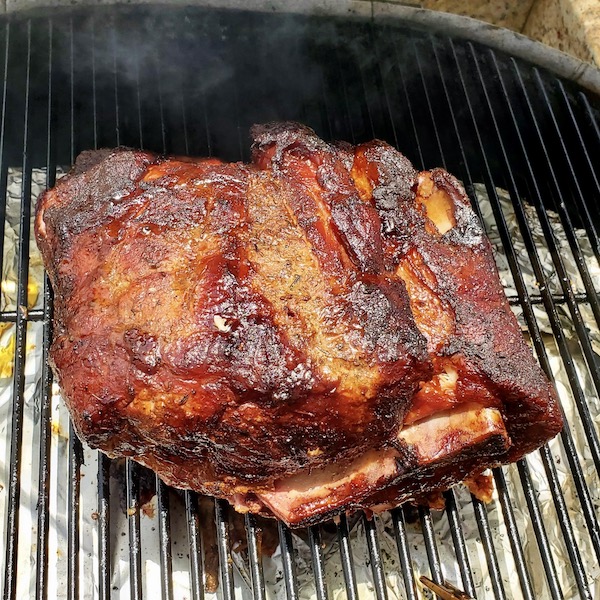 Texture is Key
I like to pull in bite size chunks and include some bark. Not a fan of the "shredded wheat" type of pull you see at some BBQ buffets, meat needs texture in my opinion but everyone has a favorite LOL.
Jeff Cohn Wine Pairing Suggestions
The wine served with the pulled pork was Jeff Cohn's 2014 Sweetwater Springs Vineyard Zinfandel. Not showing any age, very impressive and paired well. The 2014 is sold out, 2015 -11 bottles left!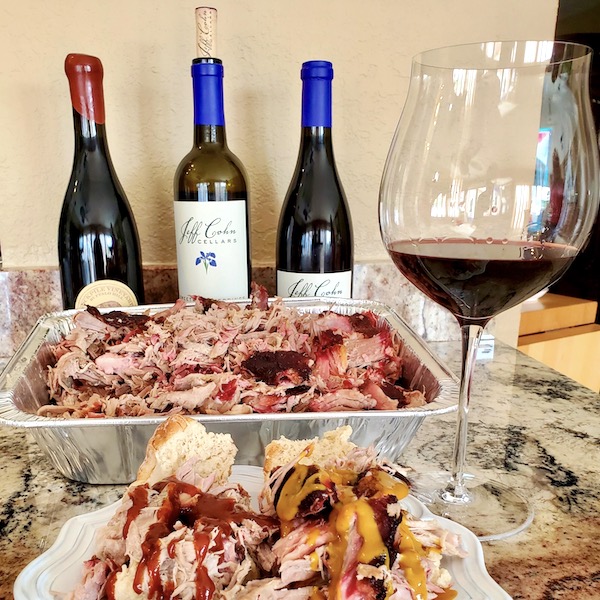 Also pictured, the 2014 Buffalo Hill and 2015 So Serine. Those were opened over the weekend during our quarantined pork fest.
🍷 WOW! Ron and Sherry are making the most of it in Florida! A top-notch effort. We love your elegant stemware to boot — thanks for sharing!
Comments
Commenting has been turned off.
You know you want to be
in the Cohn Zone
Enter your email address to keep up to date on the latest wine releases, events, and promotions.