July 21, 2020 | Recipes | Kathy Harshbarger
SIP Comfort Food
Mushroom Bourguignon Pot Pie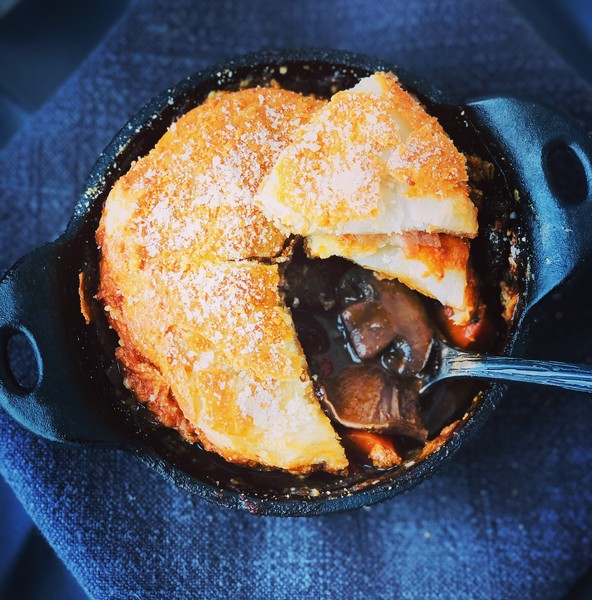 Ingredients
1 lb. sliced mushrooms, such as cremini, portobella, and oyster
2 Tbsp olive oil, divided
1 yellow onion, finely chopped
1 carrot, peeled and chopped
1 red bell pepper, cored and diced
4 garlic cloves, minced
1 tsp dried thyme
1 tsp dried oregano
1 tsp dried basil
salt & pepper to taste
2 Tbsp tomato paste
¼ cup flour
1 cup Jeff Cohn Cellars Zinfandel (pour the chef and sous chef a glass )
1 cup vegetable stock
Egg wash
Parmesan cheese
Puff pastry
Preparation
Preheat the oven to 425F.
Heat the olive oil in a large pot.
Add the mushrooms and cook until browned and the mushroom liquid has evaporated.
Add the onion, carrot, red bell pepper, and garlic.
Saute until the vegetables are tender.
Next add the herbs and cook until aromatic and combined.
Add the tomato paste and combine.
Once everything is evenly combined, add the flour and cook until uniformly combined.
Add the Jeff Cohn Cellars Zin and vegetable stock and cook until thick.
While the mushroom bourguignon is cooking cut the puff pastry to the size of the vessel that will be used to bake the pot pie.
Add the mushroom mixture to the baking dish and top with the puff pastry. Brush the top of the puff pastry with egg wash and top with parmesan cheese.
Bake in the oven until the puff pastry is golden brown and the mushroom bourguignon is bubbling and hot.
Recommended Paring
Your favorite Jeff Cohn Cellars Zinfandel
Please share your reviews in the comments section
Thank you, Chef
We love this recipe!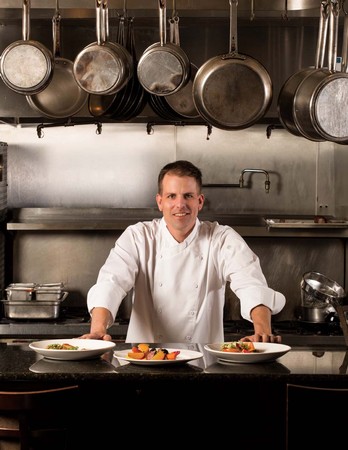 Tripp Mauldin is the chef at Goodale Station in Columbus, OH
Like Jeff, Tripp attended the Johnson and Wales University (Vail, Co) and received a degree in Culinary Arts. He worked his way up from line cook at Aqua and the Ritz-Carlton Dining Room (SF) to sous chef at the Michael Mina Restaurant in the Westin St. Francis of San Francisco to being named Executive Chef at the Angele Restaurant in Napa Valley.
Comments
Commenting has been turned off.
You know you want to be
in the Cohn Zone
Enter your email address to keep up to date on the latest wine releases, events, and promotions.