February 28, 2018 | Alexandra Cohn
What's Happening at Jeff Cohn Cellars
Word From the Vines!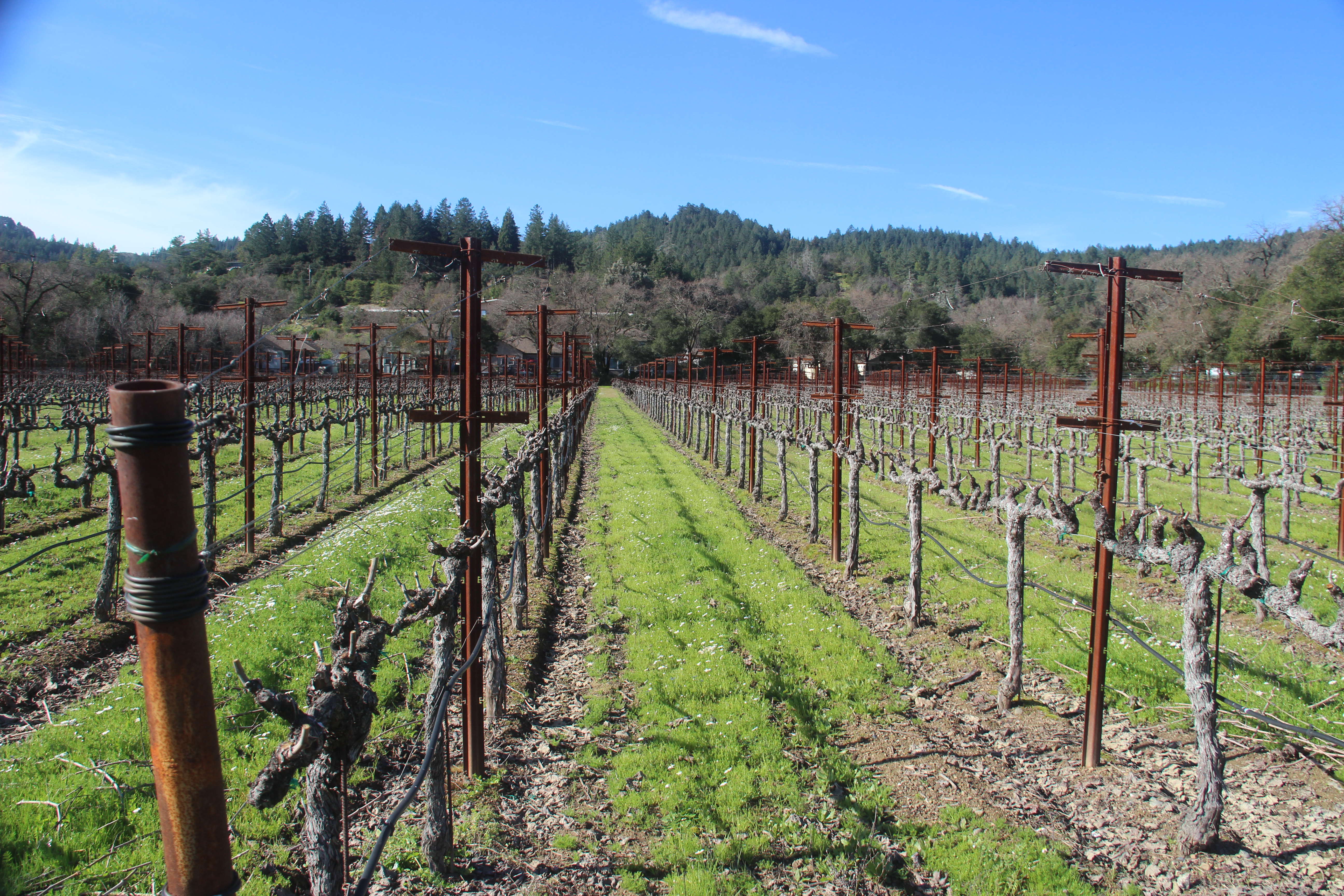 The Vine Awakens!
Vineyard Happenings

As the dust and ash finally settle from the fires that wreaked havoc throughout the majority of California this past fall, we are anxiously awaiting the beginning of the 2018 growing season. We've had small amounts of rain this winter, though it's been enough to keep the water table happy, but far less than what we saw last winter. Temperatures have been relatively warm this winter so as a result, we are starting to see a little bit of bud break in a few of the vineyards. These are moments where our relationships with our growers and vineyard management teams becomes incredibly crucial. We are out in the vineyards, working together coming up with the best ways to ensure that the 2018 growing season will be a success for everyone.
Cellar Happenings

The 2017 wines have been topped and are now getting their beauty rest. We don't rack our wines, but we'll wake them up in a few months to see how they are doing. Our 2016 wines are spending a little more time in barrel this year, so we will be putting blends together mid-April and then bottling in May! Right now Jeff is thinking about 2018 as he puts his barrels orders together. We purchase primarily French oak and he loves working with large format barrels; 300, 350, 500 and 600 liter barrels now fill our cellar. As we continue to experiment with these different sizes of barrels for our wines, our newest addition was a 1,000L foudre in 2017. The use of large format barrels has allowed us to add extra layers of complexity to our wines while maintaining the Jeff Cohn style. We know you're going to love the outcome!

Tasting Room Happenings

Meet the Team:
We are excited to introduce you to Liz Bell, our new Tasting Room Manager. Liz grew up in upstate NY and decided to trade in the snow for sunny California where she's been for 11 years. Having visited wine country multiple times, understanding the concept of swirling and smelling wine in a glass went from being a faux pas to a habit with a lesson behind each swirl and sip. Her passion for wine and sense of place made her the perfect choice for this position. Stop by and meet Liz!

California Native, Laurie Noble, joined the Jeff Cohn Cellars Family in May of last year. As a teenager, she moved to England with her family and attended Le Cordon Bleu cooking School. She crewed on a yacht in the Pacific Ocean for 10 years before raising two sons in Sonoma for the past 30 years. She spent 14 years as Gloria Ferrer's wedding coordinator, as well as Special Events Sales Manager. She now focuses on her own special events, A Noble Affair, along with tasting room extraordinaire a few days a week! Come say Hello to Laurie!

Wine Club Pick Up:
Wine Club Members will have the opportunity to pickup their first club shipment of the year on Saturday, March 3rd and Sunday, March 4th. Please RSVP via Evite or email info@jeffcohncellars.com. We'll be sampling new vintages of your favorites and also 2 new additions, Rinaldi Zinfandel from Amador County and Zio Tony Syrah from Russian River Valley. Be sure to come by Noon to 6pm both days.

Educational Series:
Starting March 17th, Jeff will be hosting each month a series of informative tastings and classes. We feel that one of the most important components of our family winery is to be as accessible as possible to our fans. Our first tasting will be titled the Mystery of Sensory and the focus will be all things sensory. Why do winemakers describe wines the way they do? Why are winemakers meticulous about the grape clones they choose to make their wine? What's the difference between acid and tannin? What are some characteristics certain types of oak barrels give to a specific variety? These are just a few topics that will be discussed. The class will run from 11 am to approximately 12:30 pm. Cost $40. Wine Club Member $30. Wine Club members use code Sensory10.
Buy Sensory Tickets!
Exciting News!
2015 Zio Tony Ranch Syrah
Wine Spectator - 93 Pts
Our inaugural vintage of Zio Tony Ranch Syrah from the famed Martinelli Family Vineyard, in the heart of Russian River Valley, is a wonderful addition to our Syrah family! This wine is a delight to drink now, but will be great from the cellar for years to come.

It's deep saturated purple color and compelling aromas of cassis, blackberries, and roasted earth and savory notes give way to a wine that is full-bodied, but fresh and vibrant evolving into a long and complex finish. - Jeff Cohn

"Combines polish with good structure, offering expressive rose petal and blackberry aromas and plump raspberry, licorice and bitter chocolate flavors, focused by a lively core of refined tannins. Drink now through 2027" - Tim Fish, Wine Spectator
Purchase Zio Tony Now!
Bubbles....Tiny Bubbles!
We'll be releasing our first ever Sparkling GSM Rosé on Mother's Day Weekend celebrating our one year anniversary in Sonoma. This Provençal style Rosé obtained using the Saignée method of bleeding off 30% of the juice during red wine fermentation, results in a beautiful wine that we have then had produced Methode Champenoise. Our Sparkling Rosé is a GSM blend of 60% Grenache from El Diablo Vineyard, 20% Syrah from Rockpile, and 20% Mourvèdre from Paso Robles.

How can one survive without a bright refreshing glass of Sparkling Rosè by one's side? The 2016 Rosè is all about wild strawberries and wild Herbs de Provence from the Grenache, a spiciness from the Mourvèdre, and seduction from the Syrah. This wine is light and easy as a warm summer breeze. Everyone loves bubbles!

A summer time companion must, "It will bring Sunshine to everyday!"- Jeff Cohn

Pre-release purchase only, wine will be available for pick up May 1 in Tasting Room, shipments commence May 1.
Buy Sparkling Rosé!
Amazing Experience!
We have been selected to participate in this year's Signature Sonoma Valley! You are invited to join the who's who of Sonoma Valley's legendary wine community for a wine dinner you'll never forget, hosted in the private home of one of our most iconic wine families. Envision yourself at an elegantly adorned table within one of Sonoma Valley's most exclusive and captivating locations, the ideal setting to raise a glass (or two) with a room full of local wine legends.

Each of our vintner hosts has selected a memorable wine from his or her personal collection to share with you - a bottle both rare and personal, speaking to the history, passion and innovation that has catapulted Sonoma Valley into wine cellars, and onto tables, worldwide. The stories will flow freely, along with the wine, and each course thoughtfully crafted to complement the evening's incomparable wines.

It's not a dream: it's the Legends Dinner, Signature Sonoma Valley's flagship event, and you are there. We will be participating in the Legends Dinner at Don & Nancy Sebastiani's Private Residence on April 7th. $500 per person
Purchase Legend Tickets!
Winemaker Dinner!
We are excited to announce an upcoming Winemaker Dinner on Saturday, May 19th! We will be joining forces with Sondra, and the rest of the Girl and the Fig team, over at their pop up location, Suite D at 6:30pm.

2016 The First Date (60% Grenache Blanc/40% Roussanne)
Passed Appetizers

2015 Broken Compass Carignane
Ricotta Gnocchi, Wild Mushrooms, Porcini Vin Blanc, Upland Cress, Shaved Vella Dry Jack

2015 Misc Stuff GSM Blend
Pancetta Wrapped Pork Tenderloin, Lavender Carrots, Roasted Yukon Gold Potatoes, Pomegranate Jus

2015 Rockpile Haley Syrah
Assorted Cheeses

2015 Cassata Zinfandel
Rhubarb-Huckleberry Crisp, Thyme Ice Cream


Ticket prices are $88 per person
Jeff Cohn Wine Club Members $74.80 per person; use code JC51918
Buy Wine Dinner Tickets!
The Jeff Cohn Family
Thank you for your continued support and loyalty.
Cheers! & ~Half Full,
Alexandra and Jeff
Copyright ©2018 JEFF COHN CELLARS, All rights reserved.

www.jeffcohncellars.com
www.facebook.com/jeffcohncellars
Instagram: JeffCohnCellars
Twitter: @jeffcohncellars

Our mailing address is:
535 1st Street West
Sonoma, CA 95476
Tel 707.938.8343

Want to change how you receive these emails?
You can update your preferences or unsubscribe from this list.

[Email Marketing Powered by MailChimp]
Comments
Commenting has been turned off.