March 24, 2021 | Drink Wine, Recipes | Kathy Harshbarger
Grilled Cumin Lamb Chops

Ingredients
12 lamb chops or 8 lamb t-bones
Marinade
2 tsp cumin seeds
2 tbsp soy sauce
1 tbsp sherry wine or chinese cooking wine
1 tbsp hoisin sauce
Spice blend
½ tsp chili flakes
1 tsp salt, kosher or sea salt
Preparation
1. The Marinade - Toast the cumin seeds in a small frying pan until aromatic. Transfer to a mortar and pound with a pestle until lightly crushed. Transfer half of the cumin to a small bowl, save the other half for the finishing spice blend. Add the soy sauce, wine, and hoisin to the bowl with the cumin. Mix the marinade and add the lamb. Marinate for 2 hours or up to 8 hours.
2. Add the salt and chili flakes to the remaining crushed cumin seeds and mix to combine. Set aside for later.
3. Preheat a grill pan or outdoor grill. Remove the lamb from the marinade and grill until desired doneness. Baste with the remaining marinade will grilling. Remove the lamb from the grill and sprinkle with the spice blend.
4. Mix the honey, soy sauce, and balsamic vinegar. Plate the lamb and drizzle with the glaze. Garnish the lamb with sliced green onions and cilantro leaves.
Recommended Paring
Domaine des Chirats Syrah, El Diablo Grenache or honestly, your favorite Jeff Cohn Cellars wine - red, white, Iris Brut Rosé; you decide!
Please share your reviews in the comments section
Thank you, Chef
We love this recipe!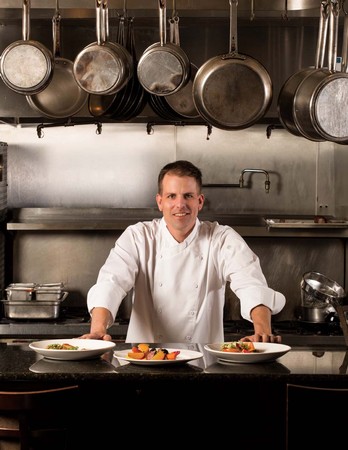 Tripp Mauldin is the chef at Goodale Station in Columbus, OH.
Like Jeff, Tripp attended the Johnson and Wales University (Vail, Co) and received a degree in Culinary Arts.
His former kitchen have honed is craft, they include: Aqua, the Ritz-Carlton Dining Room, Michael Mina Restaurant in the Westin St. Francis (SF), Angele Restaurant in Napa, The Resort at Pelican Hill in Lagun, and Satterfield's in Birmingham, his in home state of Alabama.
Comments
Commenting has been turned off.
You know you want to be
in the Cohn Zone
Enter your email address to keep up to date on the latest wine releases, events, and promotions.