April 28, 2021 | Drink Wine, Recipes | Kathy Harshbarger
Grilled Portobello Burgers
Dig in! This Portobello Burger will be on your regular grilling rotation. Thick, rich, and juicy - YUM!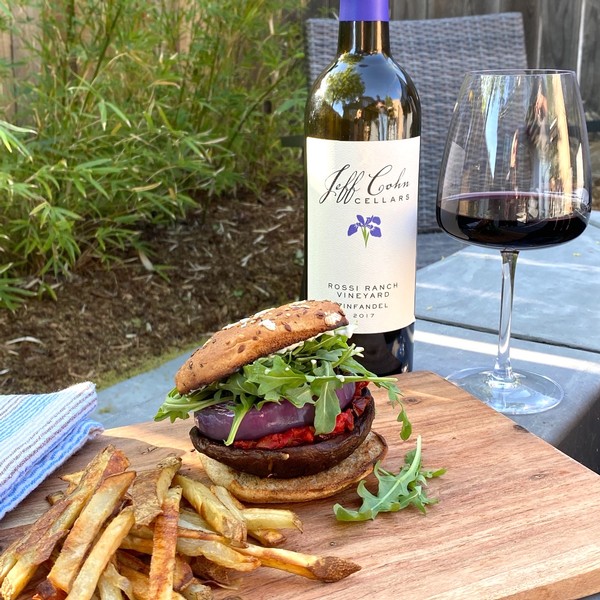 Thanks to our club members, Jennifer and Jeff for sharing this with all of us! Try their plant-based version and experiment with your own ingredients to fill your cap! Paired with homemade fries and Zinfandel for a delicious meal.
Jennifer shared, "the fries are potatoes tossed in olive oil, seasoned with Rosemary, salt, pepper and baked in the oven. Jeff and I thought the Rossi Zinfandel paired will with the smokiness of the grilled mushroom burger."
Recipe from from America's Test Kitchen
Serves 4
Ingredients
4 Portobello mushroom caps (4-5 inch diameter), remove gills
½ cup Extra Virgin Olive Oil (EVOO)
3 tablespoons red wine vinegar
1 garlic clove, minced
Salt and pepper
½ cup jarred roasted red peppers, pat dry and chopped
½ cup oil-packed sun-dried tomatoes, pat dry and chopped
½ cup (vegan) mayonnaise
¼ cup chopped fresh basil
4 (½-inch-thick) sliced red onion
4 (Multi-grain or Brioche) buns
1 oz. baby arugula
Feta cheese (optional)
Preparation
Cap Marinade
Cut 1/16-inch-deep slits on the top side of the mushroom cap, spaced ½ inch apart in a crosshatch pattern
Combine oil, vinegar, garlic 1 teaspoon salt , ½ teaspoon pepper in 1-gallon ziplock bag
Add caps, press out air, seal, turn to coat
Marinade for 30 minutes to 1 hour
The Filling + Layers
Combine peppers and tomatoes in a bowl, set aside
Combine may and basil in another bowl, set aside
Push 1 tootpick into onion horizontally all the way through each slice to keep in tact
Remove mushroom caps
Brush onions all over with marinade
Grill Preparation
Charcoal
Open bottom vent completely & remove grilling grate
Light large chimey starter still with 6 quarts of briquettes
When coal tops are partially covered with ash, pour over evenly
Set cooking grill grate in place, cover and open lid vent competely
Heat until hot, about 5 minutes
Gas
Turn all burners to high, cover and heat grill until hot, about 15 minutes
Turn all burners down to medium-high
Clean and oil the cooking grate
Grill
Place mushrooms, gill side up, and onions on grill
Cook covered (gas) until mushrooma have released their liquid and are charred on the top, 4 - 6 minutes
Flip both and continue to cook covered (gas) until mushroom are charred on bottom side, 3 - 5 minutes more
Layer Assembly + Eat!
Lightly toast buns (optional)
Place cap-side down, spoon in layer of tomato and peppers
Feta adds zing if you would to add to yours ;)
Grilled onion
Arugula
Dress top of bun with herb mayo
Chow dowm with baked fries and your favorite Jeff Cohn Cellars Zinfandel (or Syrah, Red Blend)
Comments
Commenting has been turned off.
You know you want to be
in the Cohn Zone
Enter your email address to keep up to date on the latest wine releases, events, and promotions.