May 7, 2021 | Recipes | Kathy Harshbarger
Mark Bittman's Banana Bread for Mother's Day
Mother's Day is just around the corner so treat mom this delicious and easy to make banana bread for brunch.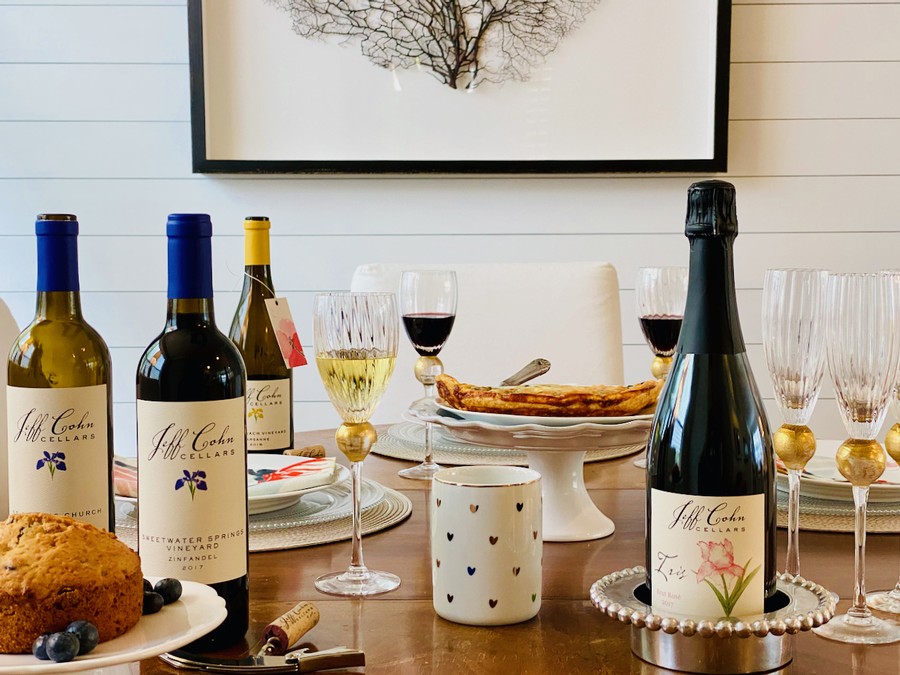 This is my tried + true recipe. It is delish and I love to riff on this original recipe (noted below).
Mark Bittman's "How to Cook Everything" is been one of favorite cookbooks for the last 20 years - it is quite simply, my "Bible" - nothing but YUM in there!
Yield 1 loaf
Time about 1 hour (give or take)
Ingredients
8 tablespoons (1 stick) butter, plus some for greasing the pan ( I use MCT oil for the pan to add a bit of coconut flavor)

1 ½ cups all-purpose flour (I used

1

¾ cups)

½ cup whole wheat flour (I used ¼ bread flour because I had it in my pantry)
1 teaspoon salt (I used Hawaiian red sea salt beacuase I LOVE it on veggies & a pinch with bread)
1 ½ teaspoons baking powder
¾ cup sugar
2 eggs
3 very ripe bananas, mashed with a fork until smooth
1 teaspoon vanilla extract
½ cup chopped walnuts or pecans (I have used ¼ almonds + ¼ Guittard extra dark chocolate chips as well, pecans and bluberries next time!)
½ cup grated dried unsweetened coconut ( I will have to try this - I didn't have any on hand)
Preparation
Step 1
Heat the oven to 350 degrees.
Grease a 9 by 5-inch loaf pan. (I like to use 3 of my Apilco #4 Ramekins, 12 cm interior diameter)
Step 2
Mix together the dry ingredients
With a hand mixer, a whisk, or in the food processor, cream the butter and beat in the eggs and bananas
Stir this mixture into the dry ingredients; stir just enough to combine (it's okay if there are lumps)
Gently stir in the vanilla, nuts, and coconut (or your 'alt' ingredients)
Step 3
Pour the batter into the loaf pan (or ramekins) and bake for 45 to 60 minutes, until nicely browned (50 minsworks for the ramekins but ovens vary)
A toothpick inserted into the center of the bread will come out fairly clean when it is done, but because of the bananas this bread will remain moister than most
Do not overcook
Cool on a rack for 15 minutes before removing from the pan
Munch, plate or freeze
Pairings
Iris Sparkling of course! It's a celebration but depending on your ingredients, get creative ... I want to make a blueberry verison and try it with the Sweetwater Zin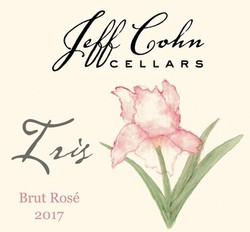 Hot out of the oven!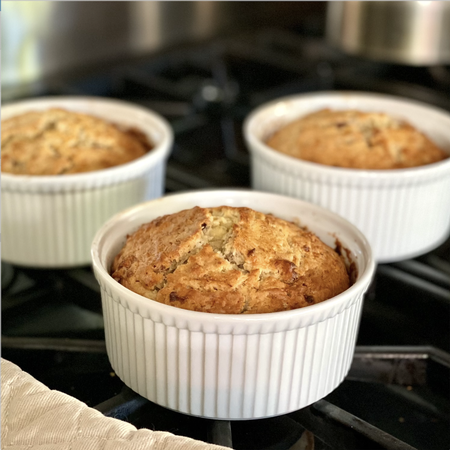 More inspiraiton from Mark Bittman.
Comments
Commenting has been turned off.
You know you want to be
in the Cohn Zone
Enter your email address to keep up to date on the latest wine releases, events, and promotions.