February 4, 2021 | Recipes | Kathy Harshbarger
Perfect Pairing Marsanne - Emeril's Classic Seafood Gumbo
Mardi Gras - it's the most delicious time of the year! While we won't be celebrating in the French Quarter, you can bring the taste of NOLA to your dining room table!
One of my favorites is Emeril's Seafood Gumbo and I have noted some of my modifications this time around as well.
BAM! - YUM!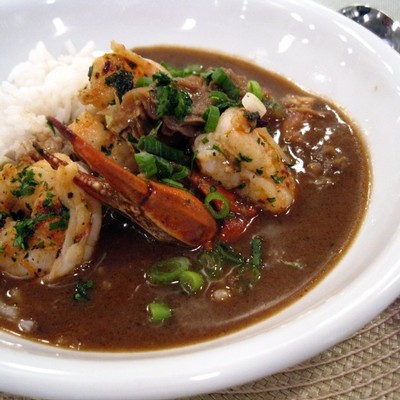 Prep Time: 30 minutes(ish)
Total Time: 2 to 2 1/2 hours
Yield: 3 quarts*, 8 - 10 servings
*This recipe can easily be doubled, frozen, and so delicious over the next day or so! Refridgeration only seems to make it better! Mine yielded closer to 4.5 quarts (I don't always measure liquids ;)
Sharpen your chef or santoku knife and get ready to chop!
Ingredients
3/4 cup vegetable oil (avocado oil)
1 cup all-purpose flour
1 1/2 cups finely chopped onions
3/4 cup finely chopped green bell peppers
3/4 cup finely chopped celery
2 tablespoons minced garlic
One 12-ounce bottle amber beer (hummm, I used an IPA this time ... stick with amaber)
6 cups Shrimp Stock (I made my own from the shells but rounded out with seafood stock ... or just use this ;)
1/4 teaspoon dried thyme
2 bay leaves (if really big, just use one)
1/2 pound gumbo crabs (about 2) (crab season has been on hold so I just used more shrimp)
2 teaspoons Worcestershire sauce
1 1/2 teaspoons salt
1/2 teaspoon cayenne pepper
1 pound medium shrimp, peeled and deveined
1 pound white fish fillets, such as catfish, grouper, snapper, or sole (I used petrale sole)
1 tablespoon Emeril's Original Essence ( in a nod Jeff's favorite spice ... I used Old Bay ...yum)
2 cups shucked oysters with their liquor (I skipped the oysters)
1/4 cup chopped fresh parsley
1/2 cup chopped tender green onion tops
White Rice, for serving (I rinse and drain a couple of times + make in a rice cooker. I love white rice!)
Cooking Directions
Place an 8-quart stockpot over medium heat, and add the oil. Allow the oil to heat for about 5 minutes, then add the flour to the pot. Stir the oil and flour together with a wooden spoon to form a roux. Lower the heat to medium low and continue to stir the roux for 15 to 20 minutes, or until the color of milk chocolate. Kathy's FYI: If the heat is lower, it takes longer and the roux maybe be "blonder" but also delcious ... speaking from experience ;)
Add the onions, bell peppers, and celery to the roux and stir to blend. Stir the vegetables for 5 minutes, then add the garlic. Cook the garlic for 30 seconds before adding the beer and Shrimp Stock to the pot. Season the gumbo with the thyme, bay leaves, gumbo crabs, Worcestershire, salt, and cayenne. Bring the gumbo to a boil and lower the heat to a simmer.
Continue to simmer the gumbo for 1 hour, skimming the foam and any oil that rises to the surface.
Season both the shrimp and the fish with 1 1/2 teaspoons Essence (or Old Bay). Stir the shrimp and fish into the gumbo and cook for 2 minutes.
Add the oysters to the pot and cook, stirring often, for an additional 5 minutes. Taste the gumbo and season if necessary.
Garnish with the parsley and green onions and serve in shallow bowls over white rice.
Wine Pairing + More Recipes
YUM! Pair with our Stagecoach Marsanne or Iris Brut Rosé
BAM! This recipe and more can be found on Emeril's website.
As you can see my heat was not quite high enough to darken my roux so after 40 minutes, I decided to go 'blonde'! It was still delish!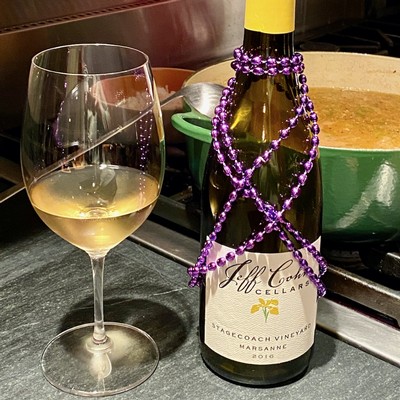 Comments