February 1, 2021 | Recipes | Kathy Harshbarger
Super Bowl Eats - Jambalaya, Baby!
This is one of my favorite of Emeril's recipes - I still use the "original" photocopied recipe from his classic Louisiana Real and Rustic cookbook. So easy and SO GOOD! BAM! at its best.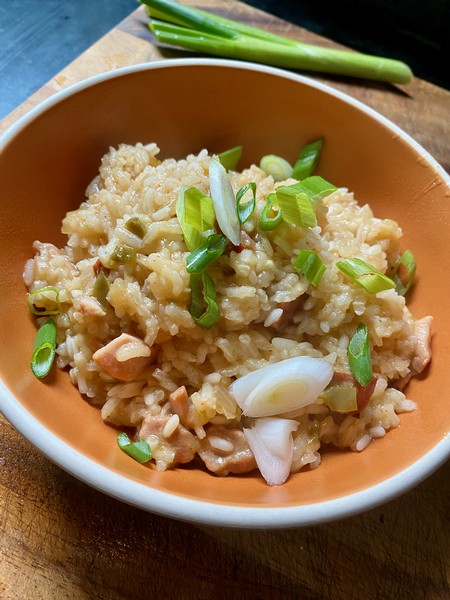 BAM! - YUM!
Prep Time: 15 minutes(ish)
Total Time:1 to 1 1/2 hours
Yield: 10 - 12 servings
Sharpen your chef or santoku knife and get ready to chop!
Ingredients
1/2 cup vegetable oil (I use avocado oil)
3 cups chopped onions
1 cup chopped bell peppers
3 teaspoons salt
1 1/4 teaspoons cayenne
1 pound Andouille, chorizo, or other smoked sausage, cut crosswise into 1/4-inch slices (Andouille all the way!)
1 1/2 pounds boneless white and dark chicken meat, cut into 1-inch cubes (I use dark meat only as it less likely to dry out)
3 bay leaves
3 cups medium-grain white rice (Cal Rose is my favorite)
6 cups water
1 cup chopped green onions
Cooking Directions
Heat the oil in a large cast-iron Dutch oven over medium heat. Add the onions, bell peppers, 2 teaspoons of the salt, and 1 teaspoon of the cayenne.
Stirring often, brown the vegetables for about 20 minutes, or until they are caramelized and dark brown in color. Scrape the bottom and sides of the pot to loosen any browned particles.
Add the sausage and cook, stirring often for 10 to 15 minutes, scraping the bottom and sides of the pot to loosen any browned particles.
Season the chicken with the remaining 1 teaspoon salt and remaining 1/4 teaspoon cayenne. Add the chicken and the bay leaves to the pot. Brown the chicken for 8 to 10 minutes, scraping the bottom of the pot to loosen any browned particles.
Add the rice and stir for 2 to 3 minutes to coat evenly. Add the water, stir to combine, and cover.
Cook over medium heat for 30 to 35 minutes, without stirring, or until the rice is tender and the liquid has been absorbed. Remove the pot from the heat and let stand, covered, for 5 minutes.
Remove the bay leaves. Top with the green onions and serve.
A green salad is a great way to sneak in even more veggies to your meal.
Wine Pairing + More Recipes
"Kick it up a notch" our Iris Brut Rosé, Domaine des Chirats Syrah or St. Peter's Church Zinfandel ... or your favorite beer ... if you must! 😝
BAM! This recipe and more can be found on Emeril's website.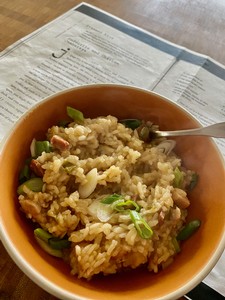 #classic #cajun #BAM #whatsaphotocopier?
Comments