August 4, 2020 | Drink Wine, Recipes | Kathy Harshbarger
Take a Culinary Vacation with Grenache Blanc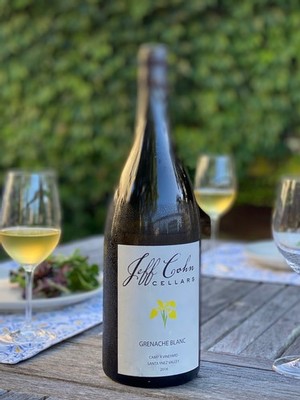 Grenache Blanc is a full-bodied white wine that originated in northern Spain. In the US, Grenache Blanc wines continue to grow in popularity for those who love its intense flavors, plush style, and versatility.
Grenache Blanc pairs with a wide variety of foods from fish dishes to rich meats such as lamb. So take a culinary vacation and cook richly-spiced Moroccan, Spanish, Indian or Asian dishes to compliment your Grenache Blanc. Go easy on the spicy heat because alcohol kicks up the pepper "burn".
Yum! So Many Options in Which to Savor ... from Cheese to Veggies
Cheeses
Softer creamy cheeses including Brie, Camembert, Crème Fraîche, Fromage Blanc and medium-hard nutty cheeses such as Swiss, Emmentaler, Comté, Jarlsberg, Raclette and Gruyère
Meats
Chicken Satay, Chinese 5-Spice Sea Bass, Tempura Shrimp, Broiled Lobster, Moroccan Tagine, Lebanese 7 Spice Lamb, Garlic Chicken, Braised Short rib, Roasted Pork Shoulder
Vegetables
Zucchini, Sweet Onion, Potato, Cauliflower, Yellow Tomato, Yellow and Red Lentil, Garbanzo Bean, White Bean, Fennel Bulb, Celery, Peppers, Eggplant, Yellow Squash, Edamame, Corn
Herb/Spices
Cumin, Coriander, Garlic, Lemon Zest, Lime Zest, Red Pepper, White Pepper, Fenugreek, Fennel, Anise, Allspice, Nutmeg, True Cinnamon, Ajwain, Amchoor, Shallot, Chives, Marjoram, Savory, Chervil, Basil, Cilantro, Caper
Limited Time Offer
Grenache Blanc magnums on sale now for $65.
Enjoy per magnum flat-rate shipping: $15 ground or $25 FedEx temperature-control ground
Comments
Commenting has been turned off.
You know you want to be
in the Cohn Zone
Enter your email address to keep up to date on the latest wine releases, events, and promotions.