June 8, 2020 | Recipes | Kathy Harshbarger
Father's Day Menu
Time to BBQ!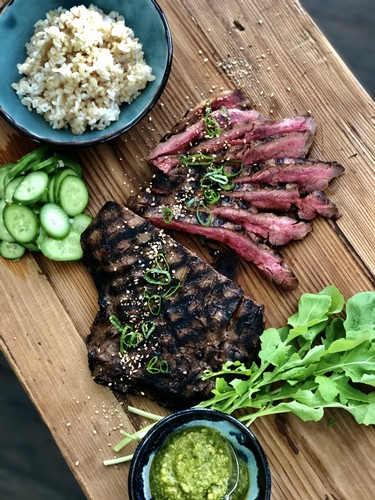 BBQ Asian Marinated Flank Steak
Ingredients
2 beef flank steaks
1 cup soy sauce
1 cup brown sugar
12 cloves garlic, chopped
1 Tbsp sesame oil
¼ cup sake or white wine
1 kiwi, peeled and sliced
Directions
Combine the soy sauce, brown sugar, garlic, sesame oil, sake, and kiwi in a bowl.
Add the flank steak and marinate 8 hours or overnight.
Heat a BBQ grill.
Remove the flank steak from the marinade and grill until desired doneness.
Slice and serve with rice, chimichurri and cucumber salad.
Cucumber Salad
Ingredients
2 english cucumbers, sliced
¼ cup rice wine vinegar
¼ cup brown sugar
4 cloves garlic, crushed
1 tsp salt
¼ tsp crushed red pepper
Directions
Combine all the ingredients in a bowl.
Allow to marinate for 2 hours in the refrigerator before serving.
Asian Chimichurri
Ingredients
2 bunches cilantro
2 bunches green onions
6 garlic cloves
2 Tbsp rice wine vinegar
1 tsp soy sauce
½ jalapeno
1 tsp sesame oil
¼ cup canola oil
Directions
Place all the ingredients in a food processor except the canola oil.
Turn on the food processor and slowly add the canola oil until smooth.
Add more oil if needed.
Season with salt and pepper to taste.
Recommended Paring
Zio Tony Ranch Syrah
... or your favorite Jeff Cohn Cellars wine
Please share your reviews in the comments section
Thank you, Chef
We love this menu!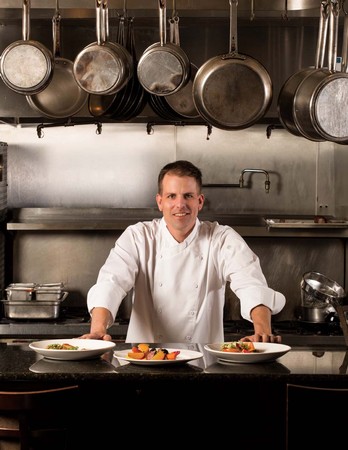 Tripp Mauldin is the chef at Goodale Station in Columbus, OH
Like Jeff, Tripp attended the Johnson and Wales University (Vail, Co) and received a degree in Culinary Arts. He worked his way up from line cook at Aqua and the Ritz-Carlton San Francisco to sous chef at the Michael Mina Restaurant in the Westin St. Francis of San Francisco to being named Executive Chef at the Angele Restaurant in Napa Valley.
Comments
Commenting has been turned off.
You know you want to be
in the Cohn Zone
Enter your email address to keep up to date on the latest wine releases, events, and promotions.