March 2, 2021 | Recipes | Kathy Harshbarger
Celtic Cuisine - Beef Barley Soup
🍀 Sláinte 🍀
I often say, "Harshbarger is an alias" and believe everyone is Irish on St. Patrick's Day! That being said, this Irish lass, Kathleen Maguire is sharing one of my favorite family recipes, Beef Barley Soup.
Way back in the 1970's my parents must have be given a gift of Irish Mist with a recipe booklet. The secret to most of its recipes seems to be to OMIT it! Trust me, I made it once with the Mist and it was a terrible mistake!
My adaptation: the beef broth base is key and makes a fantastic vegetable (though not vegetarian) soup
It easily doubles or triples as it freezes "beautifully" as my mom, Joan would say. I think tastes even better the next day after the flavors meld during refrigeration or "back porch chilling" depending on where you live!
Serves 6
Prep time: 25 minutes
Cook time: 3 hours (largely unattended)
Ingredients
2 lbs beef soup bones (from butcher or market, sometimes in the frozen section near the deli)
1 lb meat such as flank or hanger steak, small cubes
8 cups water, if doubling, add 32 oz. of organic beef broth or double soup bones
1 tablespoon salt
1 teaspoon black pepper
2 medium carrots, grated
2 medium stalks of celery, thinly sliced
1 medium onion, diced
1 16 oz can diced tomatoes (14.5 oz works too!)
1/4 cup barley
Preparation
Rinse and place soup bones, water, salt & pepper in at least a 5-quart Dutch Oven or large stock pot
Bring to a boil, reduce heat to low
Simmer for 2 hours, skim off any foam, remove bones.
Add meat, veggies, and barley to Dutch Oven, add additonal beef broth if uisng in place of additonal bones
Simmer on low heat for 1 hour
Salt, pepper to taste
Wine Paring
St. Peter's Church Vineyard Zinfanfel - theme appropriate; Guinness or Harp - hoilday appropriate, or your favorite Jeff Cohn Cellars wine as you should drink what you love!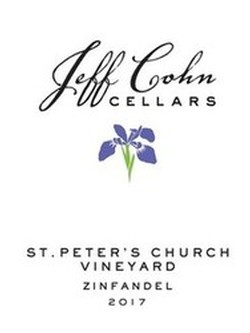 Serving Suggestions
A crisp green salad and hot crusty bread
A second helping!
A bone for your Rhône Rover! Pixel made a clover with her tongue she was so excited!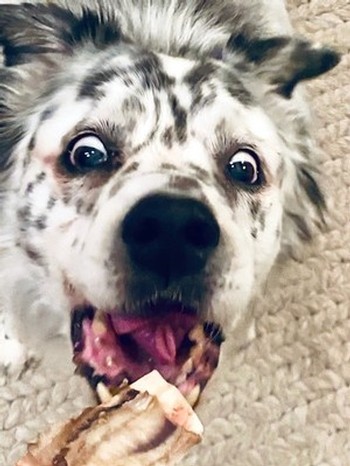 Comments
Commenting has been turned off.
You know you want to be
in the Cohn Zone
Enter your email address to keep up to date on the latest wine releases, events, and promotions.