August 13, 2020 | Drink Wine, Vineyard | Jeff Cohn
Marvelous Marsanne + Summer News
Inpirational Marsanne
Inspiration is what makes great wines happen for me. Tasting great wines gets my creative juices flowing. Meeting the wine makers of these wines, tasting with them, and trying to have a little of their knowledge, passion and yes, magic, rub off on me, as the commercial states, is priceless.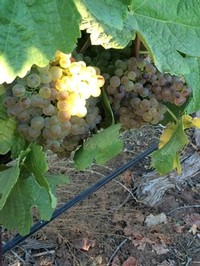 With that said, let us talk about one of my favorite white wines, Marsanne. The first Marsanne I ever tasted was at the Viognier Guild (the early precursor to Hospice du Rhône) in Paso Robles, at the Rhône and Bowl event. It is an amazing event where wine makers from all over the world bring their Rhône and Rhône-style wines and yes, go bowling.
Bob Lindquist of Qupe Winery, brought a magnum of Chave Hermitage Blanc. I think the vintage was 1985. It was an eye-opening experience. Was it as aromatic and boudoir as Viognier (peaches and apricots) or as intense and rich as Roussanne with its subtle hints of herbal flowery tea with hints of stone fruit? Not exactly.
Marsanne is a whole other experience. It is more elegant on the nose and I feel expresses more mineral in both aromatics and on the palate. The wine aromatics consist of bitter almond, orange blossom, wet stone on a hot day, wild herbs, dried peach and apricot and just a touch of black licorice or tarragon and fennel. The palate reflects the aromatics but is incredibly lush and maybe the richest wines that I have ever had the chance to try. These are wines that not only taste great young, but with age of 10-15 years, truly become more interesting even richer and expressive of the soil.
My favorite French producers include Chave, Chapoutier, Guigal, and Domaine des Remizieres. I have been fortunate to have met the winemakers from each of these wineries and applied what I have learned from them. Will I ever be able to make a Hermitage Blanc in California? No, but I can work with a vineyard, such as Stagecoach in Napa Valley, that provides me with the opportunities to produce a wine with many similarities.
So, does a Jeff Cohn Cellars Marsanne age like Hermitage? That is what we are striving for! We started to make Marsanne from Stagecoach in 2006. I recently tried the 2007 that was still showing incredibly fresh and vibrant, but with even more mouthfeel and length. At this point, I feel the wine will hit its peak in 6 more years.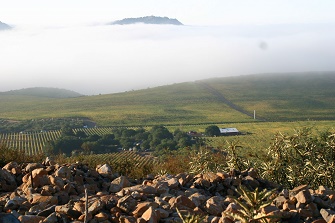 2016 Stagecoach Marsanne
Our 2016 Stagecoach Marsanne is one of my favorite wines to taste not only in our tasting room, but also to just spread the Gospel about, whenever I can. It is the perfect wine for seafood, chicken, pork, creamy white sauces, and robust cheeses. It is the perfect wine for warm weather and cold weather foods.
Without a doubt, I feel this is one of the greatest examples of Marsanne that has been made in California. You never know unless you try it!
Harvest Prep
It is that time again! My assistant winemaker, Ben and I have been busy visiting vineyards and making sure viticulture programs are being followed. New barrels are in! All equipment has been checked over, interns are being finalized and most importantly, the basketball hoop is ready for good tension release.
In other words, we are ready for harvest 2020!
COVID-19
OMG! Please take it seriously: wear the mask, wash your hands, and check your wine inventory on a constant basis. At least I can help you with your wine provisions. I look forward to our unmasking party, with all my wine club members and fans in attendance!
~Half full,
Jeff
Comments
Commenting has been turned off.
You know you want to be
in the Cohn Zone
Enter your email address to keep up to date on the latest wine releases, events, and promotions.