March 17, 2021 | Jeff Cohn
Pass/over the Peeps
The longer days and spring holidays are here! So now all you need to do is plan your menu and decide which of my wines to serve with your celebratory meals.
First and foremost, wine and Peeps, in my eyes, are a big mistake! Not that I don't enjoy a great yellow or purple peep in the shape of a little chick or bunny, I just feel they are so delicious on their own and should be celebrated as such. Now if you really want to have wine with them, the Iris Sparkling Rosé would be my choice.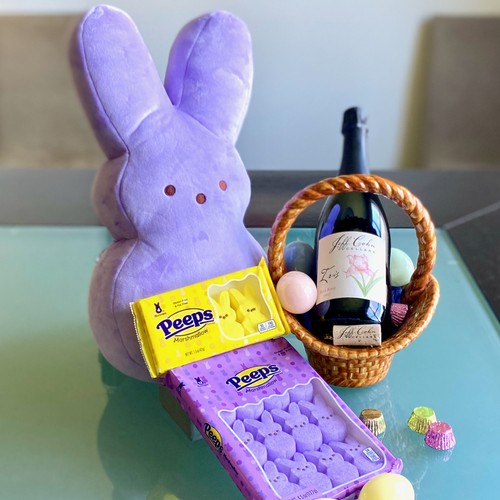 I would like to think that this holiday season of Passover and Easter hopefully represents a new beginning for all of us. It has been a long road since Covid-19 began. The fact that we have vaccines and we all will have the opportunity to get vaccinated over the next few months gives me hope that what we have learned about each other during this past year, will bring us together closer than ever before.
Passover
Back to meal planning: for those of us who celebrate Passover, for the reading of the Haggadah start with Sweetwater Springs Zinfandel, for your matzo ball soup have a glass of Iris Sparkling Rosé or The 2 Guys 2 Barrels Viognier.
If you are enjoying a chicken dish, serve The First date, or if a roasted lamb any of the Rockpile wines, Zio Tony or the Sweetwater Petite Sirah.

(RRWC member Jerry is once again photobombing - the eggs are just too tempting!)
Easter
These would be my wine recommendations for Easter depending on what your family brings to the table: with lamb, then the Rockpile Haley Syrah or Domaine des Chirats Syrah will pair nicely, but then again Rossi Ranch Zinfandel or St. Peters Church Zin would be amazing.
If you are serving smoked or baked ham, I suggest the Silver Eagle Syrah, or El Diablo Grenache would be a nice match. Of course, the Iris Sparkling Rosé would also be my go-to.
If you have roasted chicken or any other fowl, I would recommend The First Date, Stagecoach Marsanne, or the 2 Guys 2 Barrels Viognier.
In the end, no matter what holiday you celebrate, there is always room for another bottle of Jeff Cohn Cellars wine on your table.
Hey, I don't know about you, but I surely could use a hug! 🤗
~Half Full,
Jeff
Comments
Commenting has been turned off.
You know you want to be
in the Cohn Zone
Enter your email address to keep up to date on the latest wine releases, events, and promotions.